Terri Young, MD, MBA
Position title: Professor and Chair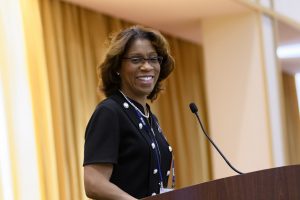 Terri L. Young, MD, MBA is the Peter A. Duehr Chair of the Department of Ophthalmology and Visual Sciences at the University of Wisconsin School of Medicine and Public Health.
An internationally renowned physician-scientist, Dr. Young joined the Department in 2014. She was professor of ophthalmology, pediatrics and medicine at Duke University and founding director of the Duke Eye Center Ophthalmic Genetics Clinic and Research Program. She also held the titles of adjunct Professor of Neurosciences and Behavioral Disorders at the Duke-National University of Singapore Graduate Medical School.
With more than 200 published peer-reviewed papers and 10 book chapters, Dr. Young has built an impressive record of competitive grant funding as an investigator. Her research specializes in genetic studies of refractive errors, eye development and growth, primary congenital glaucoma and other inherited ocular disorders.
Dr. Young received her bachelor's degree from Bowdoin College in 1981; her M.D. from Harvard Medical School in 1986; and her M.B.A. from Duke in 2012. She performed her ophthalmology residency training at the University of Illinois-Chicago and a pediatric-ophthalmology fellowship at Children's Hospital of Philadelphia. Pubmed