High Grade Myopia Research Study
The primary area of research focus in our laboratory has been the molecular genetics of high-grade myopia (refractive error of -6.00 diopters or greater). We have collected several hundred families (see example pedigree below) with high-grade myopia, and have performed genome screens to map the genes involved. Linkage mapping has identified several published candidate gene regions. We are continuing to collect families with high-grade myopia, using linkage and deep sequencing technologies to identify novel candidate genes. We believe that the findings from our research endeavor will impact the understanding of eye growth and development (myopic eyes are bigger and longer), may allow for molecular interventions to be developed to prevent the vision-threatening sequelae of high-grade myopia, and may contribute to our understanding of the genetics of common, complex quantitative trait disorders.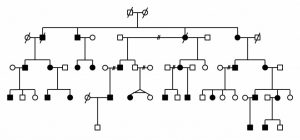 Primary Congenital Glaucoma Research Study
A newer area of investigation in our laboratory has been the molecular genetics of primary congenital glaucoma (PCG). The molecular cause of PCG is only partially understood. Mutations in CYP1B1, encoding a subunit of the cytochrome P450 complex, a protein involved in metabolism found in all kingdoms of life, are the most common cause of autosomal recessive PCG worldwide. They account for up to 87% of familial cases in some isolated populations, but only 25-27% of families in populations with heterogeneous ethnicity. Other genes with mutations known to cause PCG are LTBP2, MYOC and FOXC1 along with the TEK variant our lab found.
We are currently enrolling families with history of primary congenital glaucoma in a research study and performing genetic sequencing in order to identify novel candidate genes. We believe that findings from this research will deepen our understanding of eye development and may uncover novel mechanisms underlying glaucoma. This may lead to the development of targeted molecular interventions in the future.
We are partnering with pediatric ophthalmologists and glaucoma experts at the University of Wisconsin-Madison. Our clinical collaborators include:
Yasmin S. Bradfield, MD, FAAP
Professor
Pediatric Ophthalmology and Strabismus
Member, Childhood Glaucoma Research Network
Vice Chair of Education
Gregg A. Heatley, MD, MMM
Professor
Service Chief, Glaucoma Service
Vice Chair of Clinical Affairs
Yao Liu, MD
Assistant Professor
Glaucoma Service
Member, Childhood Glaucoma Research Network
Anna C. Momont, MD
Assistant Professor
Glaucoma Service
Melanie Schmitt, MD
Assistant Professor
Pediatric Ophthalmology and Strabismus
Director of Ophthalmic Genetics